Puerto Rico is an idyllic tropical destination with a rich history and culture, making it a popular spot for tourists year-round. However, choosing the right time to visit can make all the difference in terms of weather, crowds, and activities available. In this ultimate guide, we'll walk you through the different seasons and events throughout the year, so you can find the ideal time for your perfect Puerto Rican escape.
From the best time to hit the beaches to when to experience the vibrant cultural festivities, we've got you covered. Whether you're planning a romantic getaway or a family vacation, this guide will help you decide when to visit Puerto Rico and make the most of your time on this beautiful island. So, pack your bags, grab your sunscreen, and let's explore the different seasons and events that Puerto Rico has to offer!
Weather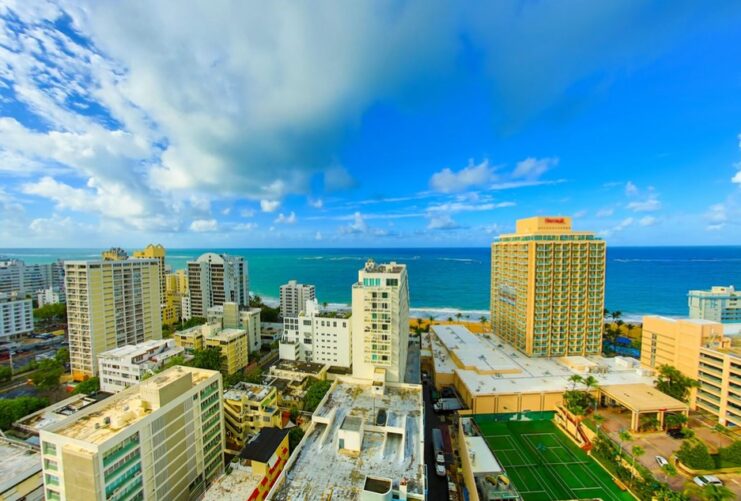 When planning to visit Puerto Rico, it is important to understand the weather and climate of the area. Generally, Puerto Rico experiences warm and mild temperatures year-round with two distinct rainy seasons. The wetter season is from May to October and the dry season is from November to April. Knowing the temperature and weather patterns can help you determine the best time to visit Puerto Rico.
Average Temperature
As an island located in the Caribbean, Puerto Rico's temperature varies depending on the season. Average temperatures remain fairly consistent year-round, with daytime temperatures ranging from around 75°F (24°C) to 88°F (31°C). At night the temperature typically drops to around 70°F (21°C).
The rainy season in Puerto Rico lasts from April through November when the average monthly rainfall hovers at around seven inches of rain per month. The driest months are December through March and rainfall usually doesn't exceed four inches per month during this time.
The best time of year to visit Puerto Rico is between December and April. This is when you can expect cooler temperatures, fewer clouds, and lower humidity levels, so you can explore the island without being too hot or uncomfortable. During this time there is also less precipitation so outdoor activities will be less affected by rain than at other times throughout the year.
Average Rainfall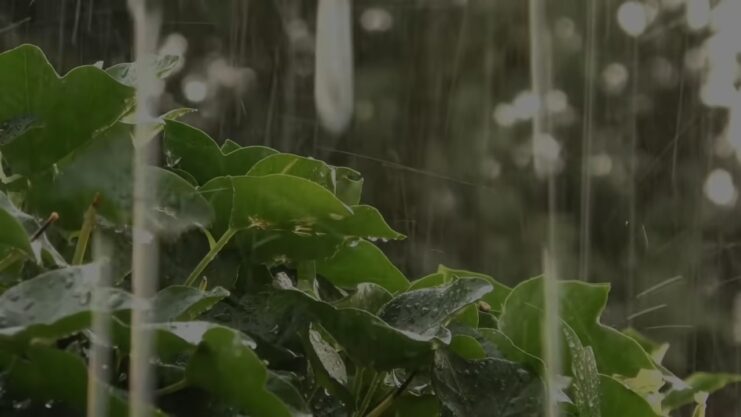 Puerto Rico has a tropical climate and is known for its ample rainfall throughout the year. Depending on the region, rainfall averages vary between 51 and 109 inches per year. Generally speaking, Eastern Puerto Rico (San Juan area) receives more rain than the west coast area of the island.
The Rain Season typically begins in April and continues through November. During this time, rains will be light with lengthy periods of sunny spells in between showers. August is usually the rainiest month of the year in Puerto Rico with some areas like El Yunque National Forest reaching close to 10 inches of rain in a single day!
The rainiest part of San Juan is East San Juan near Loiza. It rains 24 days on average out of 30 – making it one of the wettest cities on the island.
Although Puerto Rico receives tons of rainfall throughout the year, there are certain times when conditions are drier than others: November to February which constitutes the Dry Season when sunnier days tend to be more frequent with cooler temperatures and less humidity, or April/ May as well as September/October which are shorter dry spells within substantially wetter months.
For those looking for an enjoyably dry vacation experience in Puerto Rico, scheduling a visit at an opportune semi-dry moment can prove advantageous!
Events
Visiting Puerto Rico during the right time of year can be important if you want to take part in some fantastic events that the island offers. From the Puerto Rican Day Parade in New York City to the San Sebastian Festival in Old San Juan, you can find plenty of events to enjoy when you visit Puerto Rico.
In this section, we will take a look at some of the most popular events in Puerto Rico that take place throughout the year.
Annual Festivals
Puerto Rico offers a wide range of fun and exciting events throughout the year that make the island come alive with culture and life. Popular celebrations include Carnaval, Sanse, Dia de los Reyes Magos, Fiestas de la Calle San Sebastian, Festival de los Excusados, and the Puerto Rico International Film Festival. Whether you're interested in music, art, or food, these annual festivals will leave you with an unforgettable experience.
Carnaval is held during the month of February in Ponce and San Juan, Puerto Rico, and is a celebration of music and culture complete with parades, colorful costumes, food vendors offering traditional dishes from around the world, and plenty of souvenirs. It is one of the most anticipated events on the island because it is celebrated for more than a week by locals as well as tourists alike.
Sanse is another popular festival that takes place each year in December in Old San Juan. It's composed mainly of concerts given by local bands as well as some honored artists from foreign countries across five stages located around Plaza de Armas in Old San Juan. For late-night activities, there are also special event promotions like stunning visual arts displays projected on buildings throughout historical ruins in addition to graffiti competitions showcasing local talent.
Dia de los Reyes Magos (Three Kings' Day) takes place on January 6th each year with parades beginning at 6 am featuring colorful floats accompanied by mariachis and ending with fireworks. This festival commemorates when gifts were brought by three magi to baby Jesus after his birth according to Catholic teaching. It's also a great opportunity for children to get gifts from "the 3 Kings" illustrating a major belief among many Puerto Ricans – "para los niños el dia es ajeno – only for kids does the day seem not to exist!"
Fiestas de la Calle San Sebastian occurs every January over three days celebrating traditional culture through live performances at various stages across Old Town Plazuela adjacent to La Fortaleza spanning thousands of years from pre-colonial times through today's flavorings.
Cultural Events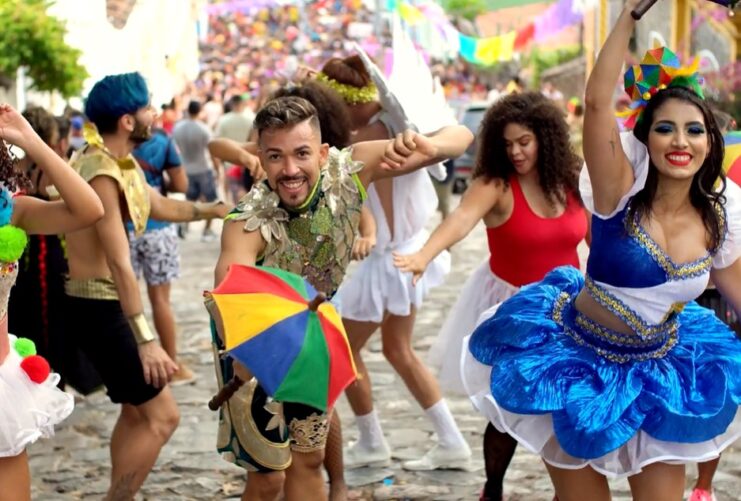 Cultural events throughout the year in Puerto Rico offer plenty of reasons to make a visit. From carnivals and festivals to live music, parades, and traditional food, there's something for everyone in Puerto Rico.
In February, Puerto Ricans celebrate Three Kings Day (Día de los Reyes Magos). Celebrated with processions and parades featuring camels and horses decorated with colorful trappings, it marks the arrival of the Three Kings as announced by an itinerant announcer on horseback.
Mardi Gras is held in February with evening parades leaving from San Juan's Calle San Justo and ending at La Casita de la Paloma Blanca. Officially recognized by UNESCO as a festival of International Tourist Interest, the festivities are marked by colorful floats featuring Queen Isabel holding a scepter while singing along to Caribbean rhythms like bomba, plena salsa, mambo, and merengue. Foodies will delight in traditional treats like pastelillos (savory pastry), morcillas (blood sausages), and temblequees (coconut puddings).
The Fiesta de San Isidro Labrador takes place at Mayaguez on May Jan 15th – 16th where you can experience lively performances from marching bands and other musical acts as well as experience traditional foods such as pasteles (savory/sweet pies). During this celebration statues of patron Saint Isidro Labrador are carried around Mayaguez draped flamboyantly in purple robes embellished with precious stones.
Sporting Events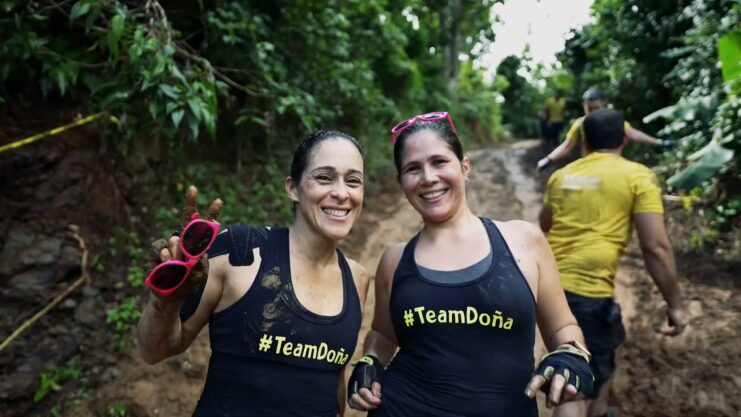 Throughout the year, Puerto Rico is host to many different sporting events. Whether you are interested in world-class professional sports or just want to take part in a local 5k race, Puerto Rico has something for everyone.
One of the biggest events of the year is the Caribbean Series Baseball Tournament, which takes place February 4-9 in San Juan and Mayaguez. This four-day tournament features teams from Cuba, Dominican Republic, Mexico, and Venezuela competing for the championship title. For a glimpse of international talent and an amazing atmosphere, this event is worth checking out!
The Professional Golfers Association's (PGA) Latin America Tour Championship is held earlier in the season than The Caribbean Series Baseball Tournament. The last day of the PGA's tournament is usually on November 1st at Royal Isabela Country Club in Isabela. This championship event draws professional golfers from all over North and South America.
The Diriyah Tennis Cup takes place each October at Stadium Drive Tennis Center in Rincon de los Magos. This tournament showcases some of Puerto Rico's best tennis players competing for regional bragging rights and a few thousand dollars in prize money!
The Compadres Trail Run Half Marathon also takes place each November at El Yunque National Forest making it an ideal time to both challenge yourself OR simply enjoy a leisurely run through one of Puerto Rico's most beautiful sights! It truly showcases the beauty of nature throughout parts of San Juan, Carolina, and Loiza.
If you're looking for some outdoor sporting fun then plan your visit between October through December as that is when there are numerous sporting events taking place across the entire island just waiting to be experienced!
Accommodations
Choosing the right accommodations when visiting Puerto Rico can be a daunting task. You'll want to consider factors such as location, price, and amenities when selecting your lodging. After all, you don't want to miss out on any of the great attractions that the island has to offer.
Let's take a look at the different types of accommodations available in Puerto Rico, and when the best time to visit is.
Hotels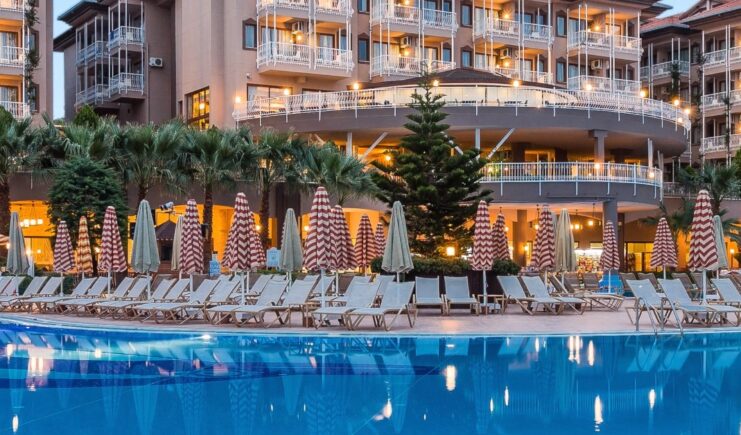 Puerto Rico is the perfect destination for a fun and immersive holiday, so it's no surprise that plenty of accommodation options are available. Whether you're looking for a luxury resort, country inn, or coastal rental villa, there are many options to choose from.
Hotels It's easy to find great hotels all over Puerto Rico; most feature on-site amenities like pools and fitness centers, although availability may be limited during peak times. Budget-minded travelers will find many two-star and low-cost accommodations around the island–check sites like Booking.com for more information.
All-inclusive resorts For those looking for an all-inclusive vacation experience in Puerto Rico, there are several resorts located throughout the island that offer extraordinary amenities such as upscale spa services, gourmet dining options, private beaches, golf courses, and much more. From high-end beach retreats to rustic mountain getaways, these properties provide tasteful comfort with ultimate convenience and hassle-free travel planning.
Vacation rentals Some of the best vacation spots to stay in Puerto Rico can be found in vacation rentals – anything from beachside condos to luxurious estate villas near popular attractions. These accommodations can come with an array of amenities that include chef's kitchens with all the utensils you need to prepare a delicious meal; private terraces; swimming pools; concierge services; housekeeping staff for daily cleaning; onsite staff at your beck & call – just about any service you would expect from a first-class resort.
Vacation rental companies often provide detailed information on their websites – including photos and reviews from past guests – so you can easily book what best meets your needs before even arriving in Puerto Rico!
Vacation Rentals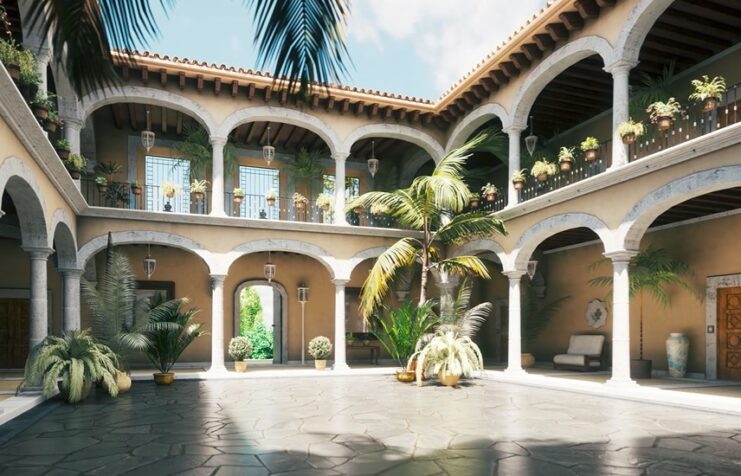 Vacation rentals are a popular choice for many visitors who want to enjoy their stay in Puerto Rico to the fullest. Vacation rentals provide travelers with a comfortable home away from home and come in various sizes, styles, and locales. From cozy cottages just steps away from the beach to lavish villas with ocean views and private pools, vacation rentals offer something for everyone.
When deciding on which vacation rental option is best, it helps to consider your budget, interests, and style of travel. Many travelers prefer staying near the beach or in areas like El Morro Fort or Ponce de Leon Square in downtown San Juan. These areas are close enough to the attractions of Old San Juan without compromising on comfort.
Be sure to check for amenities such as air conditioning (it can get very hot!), Wi-Fi access (it's essential!), private pools (for added luxury!), and any other specialties that are important to you before booking your rental.
You should also research any potential additional costs such as cleaning fees or parking charges that may not be listed in the price of your stay. Finally, read through all terms of service before finalizing your booking as many have cancellation policies that might affect your plans if they change unexpectedly.
Camping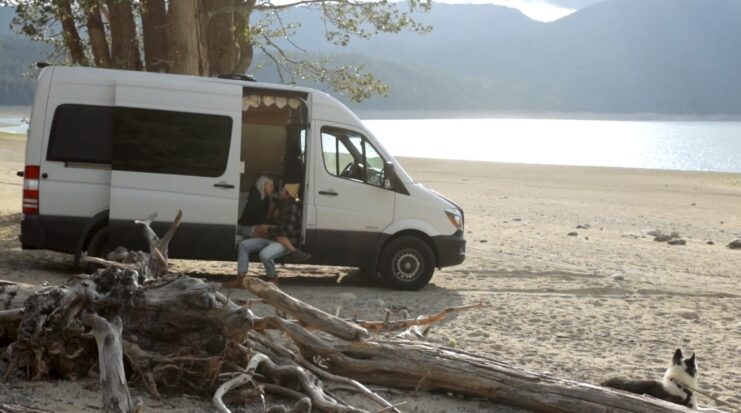 Puerto Rico offers a range of camping opportunities for adventurous visitors. There are several public campgrounds managed by the Puerto Rico Department of Natural and Environmental Resources (DNER).
These parks boast beautiful beaches, clear turquoise waters, and plenty of facilities like showers, picnic areas, and a nearby store to purchase supplies. DNER campgrounds also offer basic cabins for a more comfortable stay in nature.
If a primitive tent camping experience is what you're looking for, El Yunque National Forest is home to plenty of trails, rivers, and spectacular waterfalls—the perfect spot for outdoor adventurers! Bring your own tent or rent one from local vendors in the Rio Grande or San Juan. Many campsites located on secluded beaches offer magnificent sunset views, while other sites feature expansive ocean views.
Wild camping is allowed in most areas in Puerto Rico; however, you must comply with nature conservation laws when selecting your campsite. Check locally-posted regulations before heading off into the wilderness with your tent!
Activities
With its tropical climate, rich culture, and beautiful landscapes, Puerto Rico is the perfect holiday destination for anyone looking for adventure.
There are plenty of activities to enjoy in Puerto Rico regardless of the time of year you visit. From surfing and snorkeling in the summer to skiing and sightseeing in the winter, Puerto Rico offers something for everyone.
In this section, we will be looking at all the activities that you can enjoy while visiting Puerto Rico.
Beaches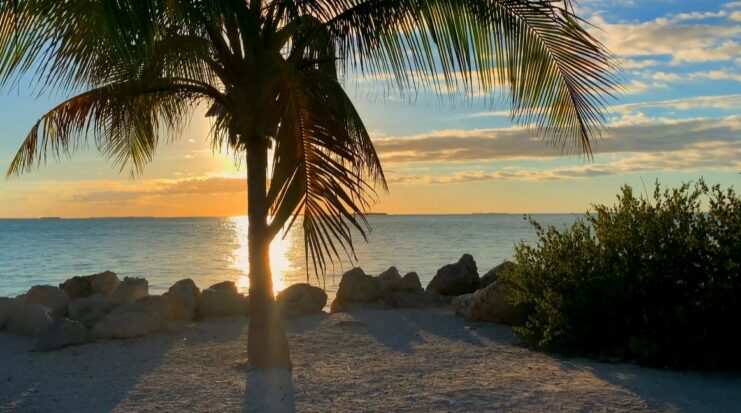 Puerto Rico has an abundance of beautiful beaches with powdery white sands and clear aquamarine waters. Visitors can choose from hundreds of picturesque beaches along the island's northern, southern, eastern, and western shores. Beaches with public access are generally free, although there are beach clubs that require payment for entry and amenities. Beachgoers can take a dip in the gentle waves, relax in the sand and sunbathe, or go for a leisurely stroll along the shore.
The best beach seasons occur during the winter months (December to April) when the weather is ideal for swimming and enjoying outdoor activities without fear of rain showers or extreme temperatures.
With over 300 miles of coastline, Puerto Rico offers a variety of activities at some of its most renowned beaches such as golfing, horseback riding, and scuba diving at Culebra or Vieques' Flamenco Beach; exploring mangrove forests at San Juan's El Escambron; surfing or kayaking off Rincon; windsurfing at Carolina's Isla Verde beach; snorkeling at Isla de Cabras' El Club Nautico de San Juan; fishing on the rocks in Playa Jasques; camping on Gilligan's Island off Isle Verde; and more.
Hiking
Hiking is a great activity to try while visiting Puerto Rico, giving travelers the perfect opportunity to appreciate the island's lush wilderness. Many trails in El Yunque National Forest boast spectacular sights and breathtaking vistas, making for fantastic photo opportunities even for beginner hikers. There are also options for more advanced hikers seeking a challenge as well as routes that are suitable for people of all ages and abilities.
Additionally, many of these hikes lead to tranquil waterfalls, majestic mountains, and hidden caves. For those looking to really explore nature first-hand, hiking is one of the best activities available in Puerto Rico.
Sightseeing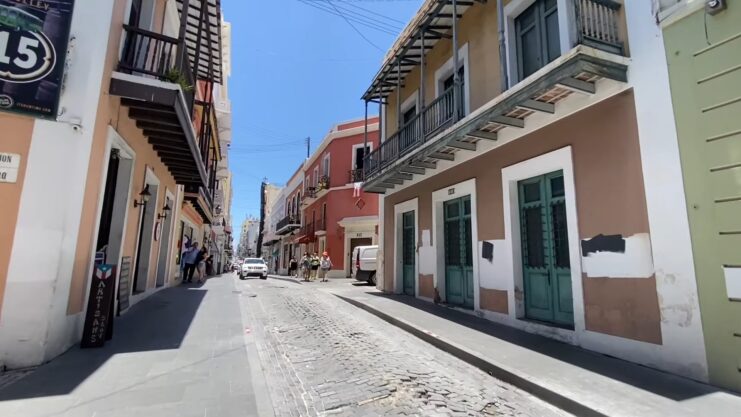 Sightseeing in Puerto Rico is an easy and wonderful way to take in the varied sights and sounds of this incredible island. The combination of sprawling cities, romantic countryside, long beaches, historic sites, and unique venues offers visitors plenty to do while they explore.
In San Juan (the capital city of Puerto Rico) visitors can check out historical sites like El Morro Castle or explore vibrant markets such as the La Placita de Santurce. Further afield, there are enchanting towns to visit such as Mayagüez on the west coast with its old-world vibe and Barceloneta on the north coast with its picturesque harbor. And many travelers opt to take day cruises from either Fajardo or San Juan for a dose of island adventure.
No matter what type of sightseeing experience you are looking for – hiking trails, nature reserves like El Yunque National Forest, urban centers, or beach excursions – you will find it in Puerto Rico. It is important when planning your trip to consider the best time of year for sightseeing – the dry season between December and April is generally conducive to seeing all that the island has to offer with minimal distraction from Mother Nature's elements.
Food
When it comes to the food of Puerto Rico, it's a hybrid of Spanish, African, and Taíno flavors and it's definitely a unique experience. From mofongo to pastelillos and many other dishes, Puerto Rico has a wide variety of delicious offerings.
When it comes to when the best time to visit is for the food, there are a few different times of year that take into account both the cuisine and the climate. Let's take a look.
Local Cuisine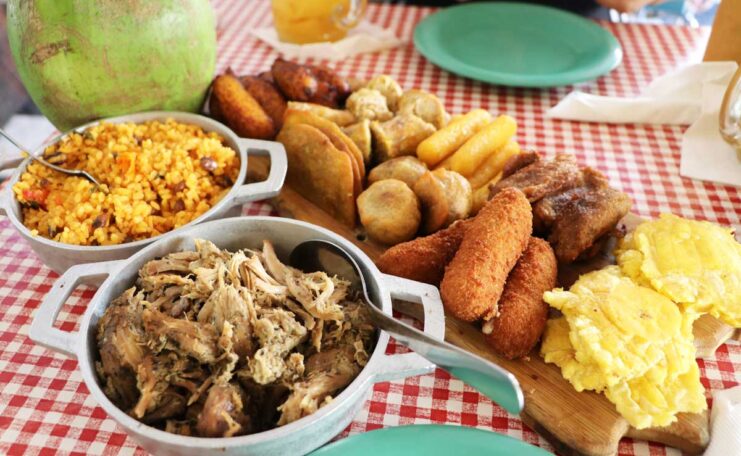 During your visit to Puerto Rico, you won't have a hard time finding an amazing meal. The island has its own unique cuisine, blending flavors from Taino Indians, West Africans, Spanish colonists, and other immigrants who have made their home here.
There is a wide variety of culinary experiences to explore in Puerto Rico — farm-to-table restaurants for fine dining; street food carts for affordable bites on the go; family-run restaurants that offer homemade dishes at local markets; and roadside stands ready to serve up thick shakes and tropical fruit.
No matter which cuisine you choose to try in Puerto Rico, you'll find some of the most flavorful dishes that combine techniques from all over the world. The local favorites are plena (a type of Caribbean folk music) and arroz con gandules (rice with pigeon peas). Other popular dishes include sofrito (a condiment of aromatics), lechón asado (roasted pork), pastelón de Amarillo (sweet banana pudding), and mofongo relleno (garlic mashed plantains). Fried foods are also popular here — try empanadillas de pizza or bacalao — crispy fried snacks that you can enjoy any time of day.
No visit to Puerto Rico would be complete without trying its signature beverage, Coco Loco. Made with fresh coconut water and coconut meat, it's both refreshing and healthy!
Restaurants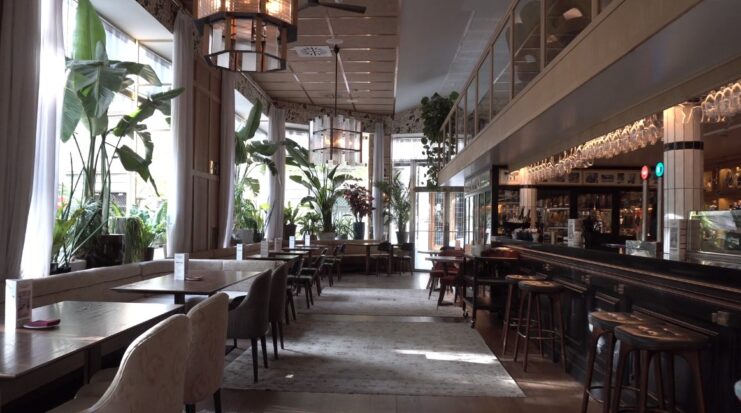 In Puerto Rico, restaurants offer a wide variety of cuisines – from local to international. Many of the restaurants in Puerto Rico specialize in seafood and other Caribbean dishes made from locally-sourced ingredients, making eating out an enjoyable experience. Popular dishes include Mofongo (mashed plantains), Lechón Asado (roasted pork), Caribbean Paella (rice with fish, seafood, and vegetables), and Sorullitos de Maiz (sweet corn fritters).
You can find something for all tastes in Puerto Rico's restaurants. In San Juan you'll find top-rated bistros serving modern Puerto Rican cuisine; traditional dishes like Mofongo, Chuletas Mayo-Mustard (grilled pork burgers), and Boliche en Carne Frita (fried beef chunks); as well as fusion restaurants that combine Cuban and Puerto Rican flavors.
In the smaller cities across the island, you'll find classic mofongos along with delicious dishes such as Empanadillas de Pizza a la criolla con Piña (pizza pie filled with creole pineapple topping) or Pastelon de Amapola y Patacones con Camarones al Pesto Caliente (poppy seed layered with twice-fried plantains topped with pesto shrimp). Often served on outdoor tables by the beach or nearby campgrounds, these local favorites are sure to please your palate!
Street Food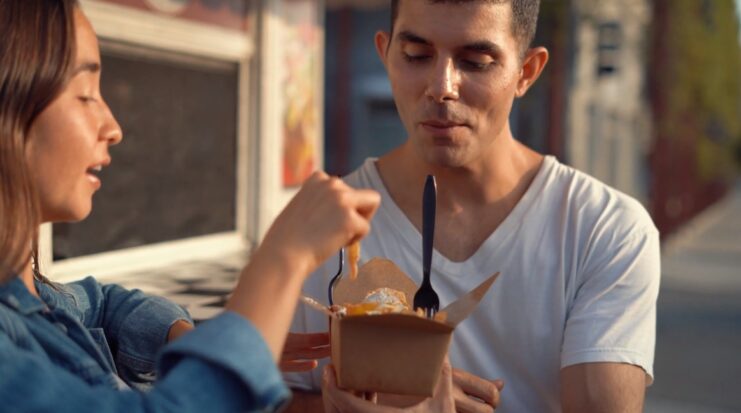 During your visit to Puerto Rico, don't miss out on the delicious street food. From aromatically spiced BBQ hamburgers, steak sandwiches, and stuffed plantains to deep-fried empanadas and alcapurrias filled with savory beef and ground shrimp, the local street fare boasts flavors influenced by Spanish, Taino, African, and Caribbean cultures.
In San Juan's Old City as well as in other parts of the island, you can find popular food trucks selling rib-sticking cooked-to-order meals like cazón empanizado (breaded pressed fish fritters) and heaping plates of mofongo (garlic-tinged mashed plantains served with seafood or pork).
Or stop by a seafood kiosk for marinated fried octopus or crunchy whole-fried fish paired with yucca fries (cassava strips). Another old favorite is chicharrones made from dozens of spices that fry up into unbelievably tasty pork chops with a unique crunch.
For lighter bites head over to one of the many beach shacks for irresistible dishes like deep-fried bolas de queso (cheese balls with garlic mayonnaise dip) or mini pizzas made with fluffy dough for a great mix of sweet and savory. There are also fun alternatives like open-faced grilled cheese sandwiches topped with sautéed onions or ham croquettes made from mashed potatoes seasoned Mexican style. Whatever you choose doesn't disappoint!
FAQs
What are the top tourist attractions in Puerto Rico?
Answer: The top tourist attractions in Puerto Rico include El Yunque National Forest, Old San Juan, Flamenco Beach, and the Bioluminescent Bay.
What are some outdoor activities that I can enjoy in Puerto Rico?
Answer: Visitors can enjoy activities such as hiking, surfing, kayaking, and snorkeling.
Can I use US dollars in Puerto Rico?
Answer: Yes, US dollars are the official currency of this country.
Are there any specific cultural customs or etiquette that I should be aware of when visiting Puerto Rico?
Answer: Yes, they value personal relationships and respect for family, so it's important to be polite and courteous.
Can I travel to other Caribbean destinations from Puerto Rico?
Answer: Yes, it is a hub for Caribbean travel and visitors can easily take flights or cruises to other destinations in the region.
What is the hurricane season in Puerto Rico?
Answer: The hurricane season in it runs from June to November, with the peak season being August and September.
What is the cost of living in Puerto Rico?
Answer: The cost of living in it is generally lower than in the mainland US, but it varies depending on the location and lifestyle.
Is it necessary to rent a car in Puerto Rico?
Answer: It depends on the individual's itinerary and preferences, but having a rental car can provide more flexibility and convenience for exploring the island.
Can I drink tap water in Puerto Rico?
Answer: Yes, the tap water in it is generally safe to drink, but it's recommended to drink bottled water in some rural areas.
Are there any visa requirements for non-US citizens visiting Puerto Rico?
Answer: Non-US citizens should check their visa requirements before visiting it, as the rules may vary depending on their country of origin.
Conclusion
In conclusion, deciding when to visit Puerto Rico can greatly impact the overall experience of your trip. With its year-round tropical climate and diverse range of activities, there's truly no bad time to visit this beautiful island.
However, by considering factors such as weather, crowds, and budget, you can narrow down the best time for you to travel. Whether you're looking to soak up the sun on the beaches, explore the lush rainforests, or immerse yourself in the vibrant culture and cuisine, Puerto Rico offers something for everyone. So start planning your dream getaway and enjoy all that this stunning destination has to offer!